You like to spend quality time with dogs. The obstacle course is a fun pastime, but it often makes people feel that professional equipment is out of reach. Fortunately, your home may already have the materials and equipment needed for self-made obstacle training courses. It doesn't matter if your dog has not been trained or you have no training experience. There are many simple levels that allow you to train your dog yourself. The course can start with some simple jumping movements, continuous S-shaped swings and tunnels. You and the dog will soon show the posture of professional players.
How to design your own dog obstacle course
Make the pre-work for the dog obstacle course. First, make sure that each level you set has enough space (for safety, leave extra space around the level). All levels are made to ensure that they are easy to disintegrate to prevent the dog from getting injured during practice. Training your dog must be patient so that you and your dog will have a positive experience.
Jumping obstacle
If you and your dog are both newbies to obstacle training, jumping is a great starter activity. As long as there is a laundry basket and a curtain rod, it is enough to make a low entry barrier for your beloved fur boy.
Do you have any remaining PVC Flexible Ducting or pipes in the pipeline decoration of your house? These are very suitable for self-made dog obstacle course levels. It is best to use adjustable steps to make a jumping pole, which is convenient for raising or lowering the height of the dog's jumping practice.
How to design your own dog obstacle course
Do you have a hula hoop or soft foam tube? The materials of these two materials are soft and stretchable, suitable for making obstacle jumping poles. When training the dog for the first time, just fix the circle at the height you want, and then command the dog to jump over the middle.
All obstacle jumping poles must be retractable. You certainly don't want your dog to get hurt because it can't jump.
S-shaped continuous winding rod
Do you have any small orange triangle cones that kids use when playing football? This is very suitable for use on the dog obstacle course. Arrange these triangle cones in the way of football stealing practice.
Have you ever used small pillars like candy canes to decorate your home during festivals? If so, that would be great! Although the dog is much taller than these small pillars, he knows how to navigate between these light pillars.
These bypass poles must be placed firmly on the ground so that the dog will not fall when it gallops past. However, just like obstacle jumping poles, these bypass poles must be light enough so that the dog will not be injured if hit. The spacing between the detour bars should not be too close or too far.
Let it walk slowly around these triangle cones, and then try to run. The training method is to first lead it with a leash and walk around each triangle. If you finish it, you will reward it. You can also take snacks in your hand and let it go around all the triangles. Do not change the verbal or gesture commands used when training the dog, so that the dog can associate the commands with the actions you require.
Tunnel barrier
Many household items can be used to make tunnels. Do you have any tunnel toys that children used to play when they were young? These light and retractable channels are very suitable for training dogs. In addition, it is easy to store and does not take up much space.
For dogs who have never been trained in tunnels, the same happy effect can be achieved with a cardboard box with the bottom plate removed. You must additionally support the carton so that the dog can pass safely. You can use a shorter tunnel (no longer than 1.2 or 1.5 meters) at the beginning until it learns to pass through the middle.
How to design your own dog obstacle course
If your dog doesn't have any Dog Agility Tunnel training, it may be a bit resistant. Encourage it a little bit. Demonstrate yourself walking through the tunnel with your hands and feet on the ground, and the dog will follow you. You can also try to put some snacks at the entrance, middle section, and exit of the tunnel to encourage your sports star to go the whole distance. Similarly, all future training must use the same verbal instructions so that your dog understands that you want it to pass through the tunnel.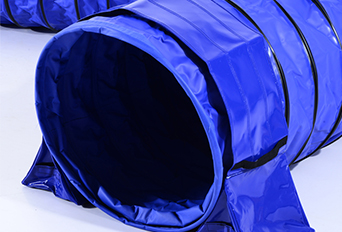 Dog Agility Tunnel
Slope
The slope is another interesting highlight of the dog obstacle course. Use some large plywood and hollow bricks to make a simple slope for the dog to run back and forth, but these props must be stable enough to withstand the dog's movement on it without moving.
Change order
After the dog can pass each level proficiently according to verbal or gesture instructions, the order of the levels can be changed. This helps dogs understand that each level has special instructions, instead of simply following the same path.
Want to add more fun? The function of the dog obstacle course can be more diversified, such as ordering the dog to pick up the tennis ball you throw to the other end or jumping into the children's pool to pick up floating toys. If you train your dog in the hot months, you can sprinkle some water on the training ground to keep the dog cool-but be careful not to get the slope wet to prevent it from slipping and getting injured.
No matter how you decide to make an obstacle course, your dog will definitely enjoy it. And not only can it get enough exercise, but you can also see its heroic posture in all levels, and get unlimited fun from it. After a while, you can start timing it to see how short it can pass all the cards; it may become a professional obstacle course in the future.
We are the Dog Tunnel Manufacturer. If you are interested in our products, please feel free to contact us.