Whether you want your dog to start participating in agility competitions or just looking for a tunnel to exercise, entertain or train your dog, the agility training tunnel can bring a lot of fun for you and your dog. Training your dog to use agility tunnels can help build his self-confidence and at the same time establish a close bond between you and him. Dog agility training tunnels can be used indoors or outdoors, with different lengths, and can be opened or closed.
If you want to train your dog to compete, then our agility tunnel is a good way to do it.
The tunnel is long enough to be shaped into different curves, bringing various challenges to your dog. In addition, for beginners, keep the tunnel straight. The grommet connected to the tunnel is made of metal, which increases the strength of the anchor ring. Use the attached piles to keep the tunnel stable when using it. When the stakes are driven into the ground, they are flush with the ground, so they will not harm your dog.
Customers like the level of production of this tunnel. It can withstand their dogs running back and forth, or in some cases can withstand high-intensity scaling. The tunnel is portable and easy to carry.
In the measurement, the tunnel was between 10 and 20 feet long and had a 24-inch diameter opening. The tunnel is made of durable heavy-duty PVC material, strong and weather-resistant, can be used for competition or entertainment, and can cope with the wear and tear of puppies.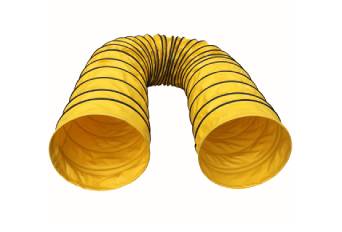 Agility Tunnel
The tunnel is suitable for indoor or outdoor use. It is easy to set up, disassemble, and clean, so you can drag it back and forth from the house to the yard, and then back and forth. It also folds compactly and is easy to store when not in use. Hundreds of customers like the durability and length of this tunnel. The tunnel can be shaped into multiple locations to change the difficulty. The reviewers noticed that their big dogs could easily pass through it, and the tunnel withstood arduous use.
Who should buy the Best Dog Tunnel?
Dog agility training tunnel can bring a lot of fun for all dogs. If you want to enter the competitive field of agility, then you might want to consider building an agility pathway for your backyard for your dog to practice. However, even if you don't want your dog to participate in the competition, the agile tunnel can add luster to her life.
Although it may take some training to get your dog into the tunnel, it can be used as a physical exercise or as an intellectual exercise. It is also a great tool for repairing shy or timid dogs, and it can also be used as a therapy for dogs to learn how to become dogs again. Tunnels can help curb boredom and do something for your high-energy dog to prevent him from becoming destructive. However, dog agility tunnels are usually very large, and you do need a space.